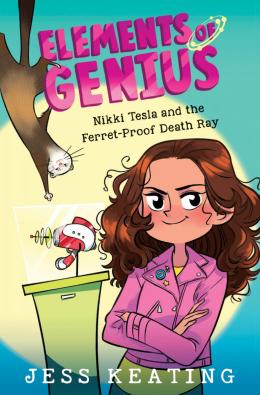 Nikki Tesla has always been a loaner. When she did attend school, she was bullied and made fun of for being so smart. Now that she is home schooled she is free to explore subjects that interest her the most. That is, until a mishap in her lab brings her and her mom unwanted attention.
At her new school, Genius Academy, she must learn to work with the other students there or face expulsion. Of course, this school is not at all what it seems, and there is much more at stake than Nikki being in class.
There is much to love about this book. Nikki is finally with a group of students with much in common. Not only are they all super smart, they all appear to have complex backgrounds. Can she trust them with her huge secret, will they still have her back once they know.
I really can't tell you any more about what happens as I don't want to review any plot twists. This new series from Scholastic is a great addition to the STEM line up of books for middle school readers. Note: this book reads at a higher level than the
Ellie, Engineer
series by Jackson Pearce.
I received an advanced reader copy of this book from Indigo Books & Music Inc., in exchange for an honest review.
#IndigoEmployee